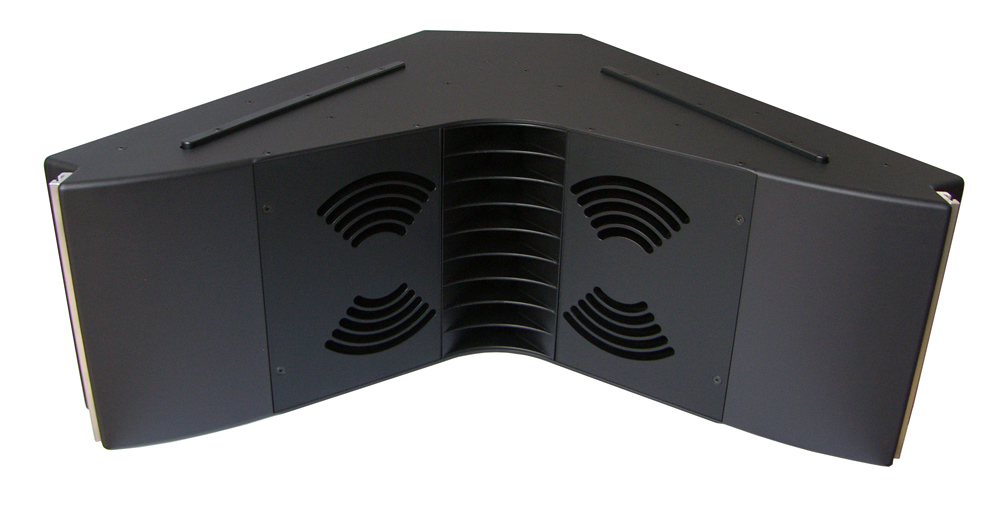 Supercluster line-array touring system
The Supercluster is a high-end line-array touring system, made with the highest possible quality standards in mind.
The compact aluminium monocoque enclosure makes it possible to use the Supercluster in a single set-up, like line-arrays, but also in a cluster set-up, making the system very versatile to use.
Ultimate long distance reach
With the compact, patent pending, multi driver wave-guide, the Supercluster system is unique in it's broad and long distance reach. It's specifically designed to get the complete frequency range at long distances.
With the largest high-frequency dome surface area per meter this system is one of a kind. Less delay towers are needed, meaning quicker build-up and less hassle.

Wave-guide
The wave-guide is designed for efficient positioning of the compression drivers. It's possible to place 3 drivers with an exterior diameter of 106 mm. in a row, and place 3 rows on top of each other with a total height of 340 mm. for 9 drivers.
This is achieved with a, patent pending, geometric shape of the wave-guide channels. Each channel ends on top of each other for good high frequency conduction.
This makes long throw distance reach with low distortions and flat frequency response possible.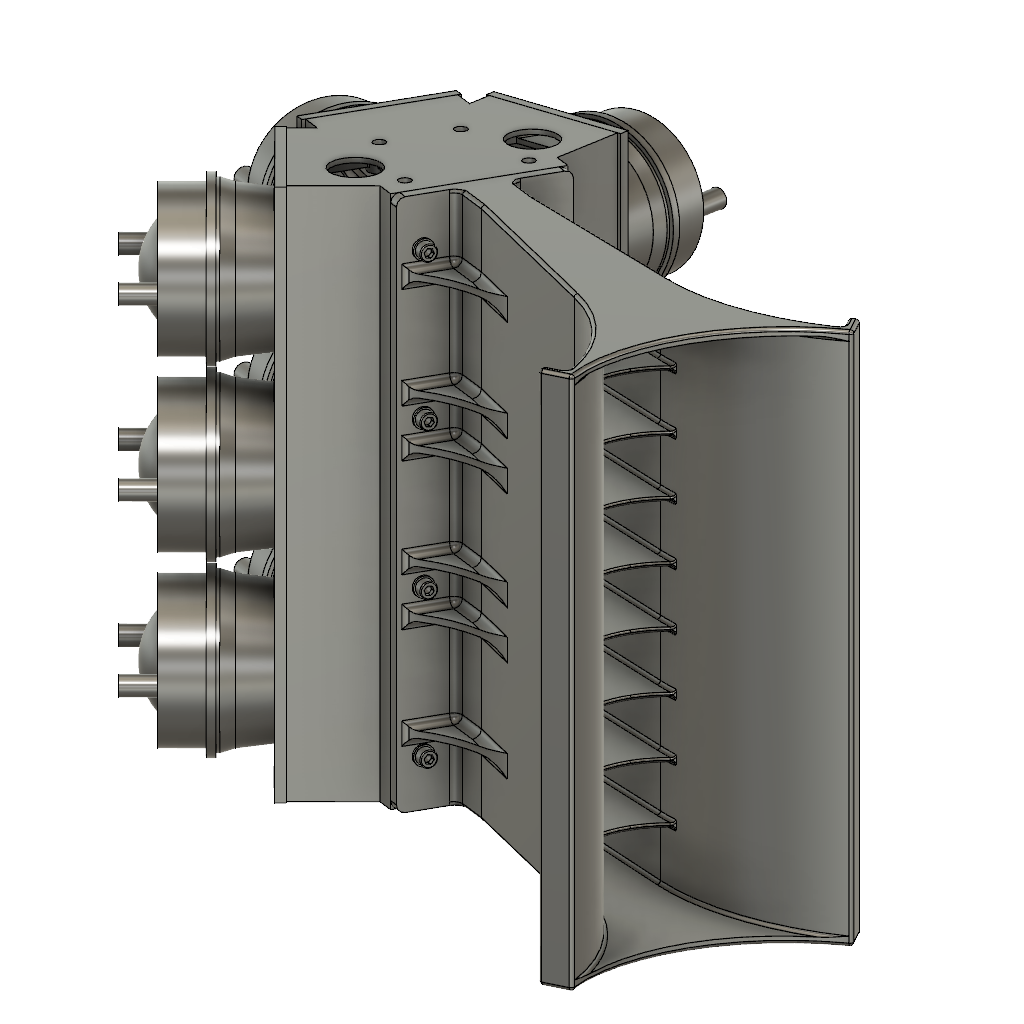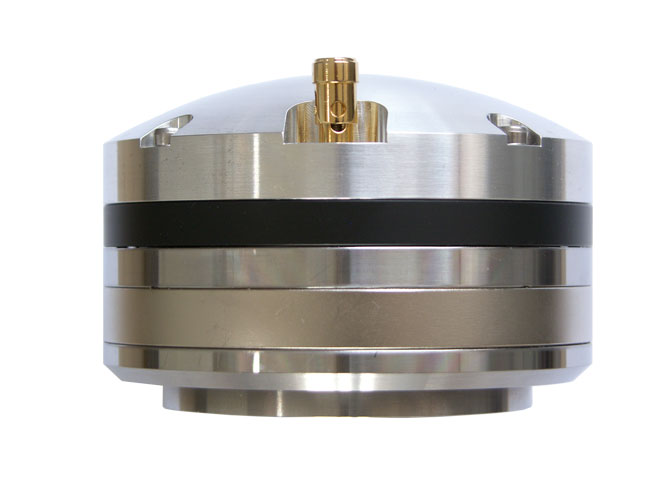 High-end compression drivers 
for crystal clear sound
This specially tailored professional high-end compression drivers provide crystal clear sound.
The Supercluster touring system is provided with nine of these drivers to make great frequency range possible while keeping a very compact size.
Line-array use or cluster set-up
This enclosure is designed to create good audio-field circumstances with lobbing reduced to a minimum, while maintaining a wide angle of sound. This angle can be expanded with a cluster configuration.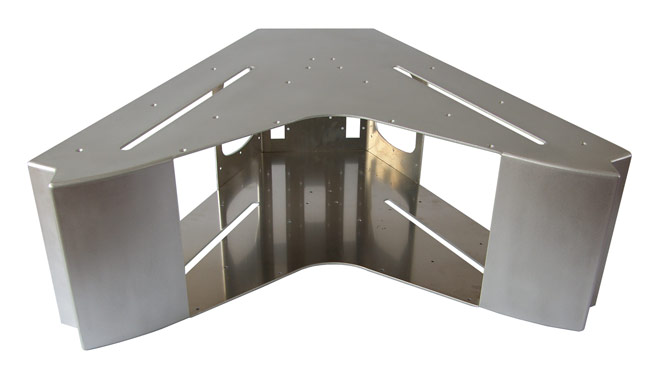 Trapezoid monocoque enclosure
The angle of the enclosure is 28 degrees per side. The monocoque enclosure is made of laser cutted 5 mm. aluminium and finished with a polyester coating.
Contains 4 ergonomically positioned integrated handles (2 per side).

The units can be arranged up to 24 pieces which results in 8,5 m. height.
12 inch multi-ply enclosure units
The 12 inch high sensitivity speakers are each mounted in their own separate enclosure unit and are equipped with a phase-plug that makes an efficient flow into the shape of the enclosure possible, resulting in a flat frequency response.
The units are supplied with Neutrik speak-on connectors on the inside to enable easy assembly and disassembly for servicing.
Fully mounted with stainless steel, all metric screw-thread.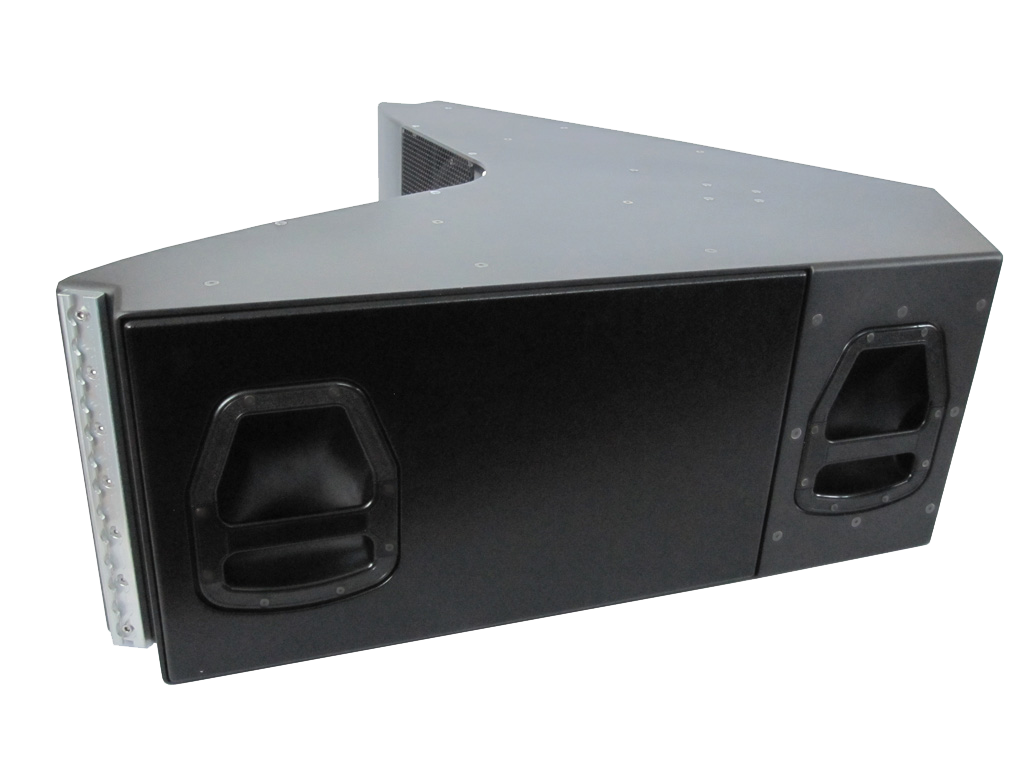 Technical specifications (preliminary)
Frequency range (-10 dB)
50 Hz. – 20 kHz
Horizontal coverage
110º
Power capacity

high            810 W. AES @ 2 Ohm 
mid-low     1400 W. AES @ 4 Ohm

Components

high            9x neodymium compression driver with 72,2 mm. diaphragm and exit of 36 mm.
mid-low     2x weatherproof high-power 12″ driver with 4″ voice coil

Cross-over frequency
800 Hz. 24 dB/octave
Enclosure specifications
Dimensions
H 350 x W 1070 x D 825 mm.
H 13,78 x W 42,13 x D 32,48 inch
Connectors
Aluminium connection panel with 2x 8-pole Neutrik speak-on metal version
Rigging
L-Track integrated rigging with safety factor 5
Material

Aluminium monocoque enclosure with waterproof birch 18 mm. multi (13)ply wood cabinets.

Finish
Polyester coating and Polyurea coating for the cabinets
 
Fully mounted with stainless steel, all metric screw-thread
Weight
82 kg. / 181 lbs.